We have liquid honey available again, and it is delicious! This batch is some of the most bright, floral honey that we have ever harvested. Get it while it lasts!
Contact us by email: info@bee-daddies-apiaries.com , send a text or leave a voice mail message at 240-242-9622 .
If you want to be added to our email list, fill in this form. Then you will know when we harvest a new batch.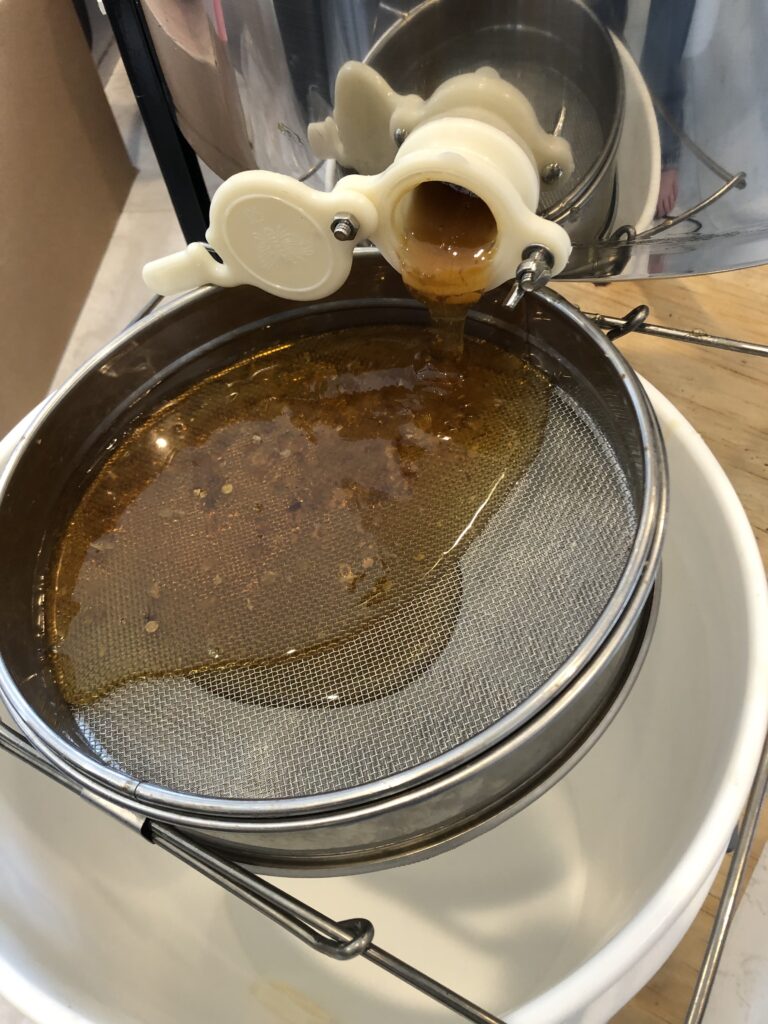 All the honey that Bee Daddies Apiaries sells is referred to as "wildflower honey." We don't try to package any "varietal" or "single source" honey. The bees choose the nectar sources, and every batch will be slightly different, but always delicious! The honey is produced by bees whose hives are located in the beautiful Bannockburn neighborhood of Bethesda, Maryland, USA.
We can package your honey in any of the following containers:
1 lb. (454 gram) "Classic" glass jars — $15.00 each
1 lb. (454 gram) "Classic" plastic squeeze bottles — $15.00 each
13 oz. (369 gram) hexagonal glass jars — $13.50 each
8 oz. (227 gram) plastic "Honey Bear" squeeze bottles — $10.00 each
Sample / gift size hexagonal glass jars, 3 oz. (85 gram) — $4.00 each
Honey Volumes
1 gallon (128 fl. oz.) of honey weighs approximately 12 pounds
1 quart (32 fl. oz.) of honey weighs approximately 3 pounds
1 pint (16 fl. oz.) of honey weighs approximately 1.5 pounds
1 cup (8 fl. oz.) of honey weighs approximately 12 ounces
We can arrange for contactless delivery at our home in Bethesda, near Glen Echo Park. If you pick up at our place, we can show you some of the beehives, time and weather permitting.
We can deliver orders of $40 or more for free to customers in Bethesda. For neighboring communities (Potomac, Rockville, Kensington, parts of Washington DC, Vienna, McLean) we can deliver for a small delivery fee.
We can ship plastic containers anywhere in the USA that is served by UPS. We will charge what it costs us to package and ship. Contact us for an estimate.
We do not ship overseas … getting honey through customs is too sticky for us.
We accept payment by cash, check and electronic / credit card transactions through Paypal, Venmo or Cash.app.